Meet our featured blogger Shayna Marks who is a regular visitor at the Long Beach Antique Market. Shayna's blog secondhandchallenge.wordpress.com chronicles her journey as she buys ony second hand stuff this year. Shayna believes that not only is it easy to look incredible while wearing items that are previously loved, but it's economical and the best option for the environment. Being fashionable has never been so green! Walk through the Long Beach Antique Market with Shayna as she shops for the new home she is moving to.
Long Beach: the largest port on the West Coast, home to the Queen Mary and the first ever Miss Universe pageant, and former home to musical legends Sublime, Snoop Dogg, Nate Dogg and Warren G. It's culturally and demographically diverse , with a whole lot of personality and character, making it the perfect spot for one of the southland's best flea markets, the Long Beach Antique Market.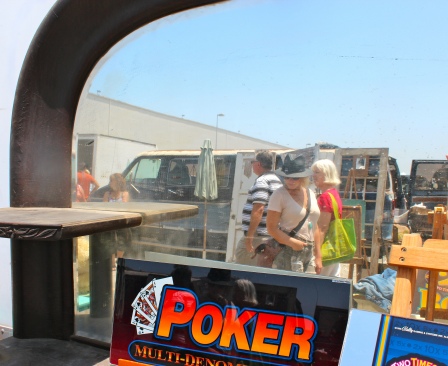 Reflection: browsing the goods
The last time I made a trip to the Long Beach Antique Market, I had a few gifts in mind to purchase, but was mainly just browsing and waiting for things to catch my eye. This trip was a little different, as I'm moving (more on that soon!) and have specific items I need and want in order to create the perfect new bedroom. With a color palette of a white/neutrals base and pops of tangerine tango (the Pantone color of 2012), melon, mint and turquoise, my mental vision is one of vintage flair and lots of color.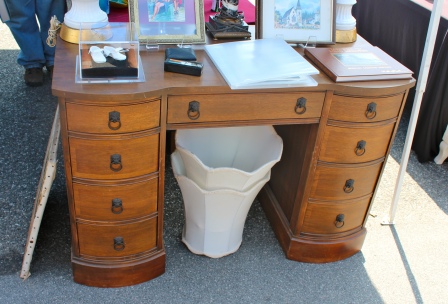 Antique desk from 1940′s or 50′s, $150 bartered to $100
I've always had a hankering for a vanity, so I had my sights set for a desk I could use as one. I wanted a lot of drawer space for all my beauty products and various nicknacks. I saw this desk about ten minutes in to my day at LBAM and thought it was too early to bite. After browsing two more aisles, I knew I had to go back and pick it up. It was too good to let it get away. Bonus? Rad lion drawer pulls that match one of my vintage night stands from the IVC flea market!
Tip: can't decide right then and there if you want it? Give the seller your phone number, and tell them to call you if it hasn't sold by the end of the day.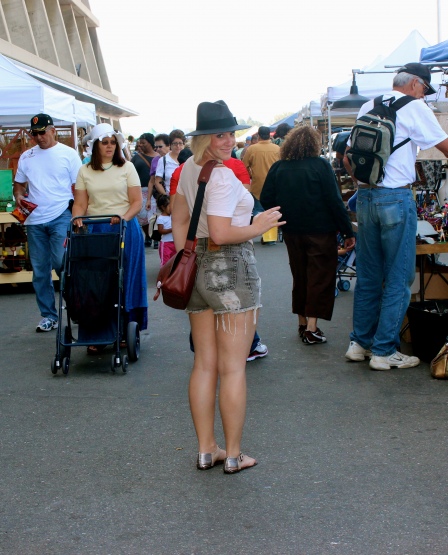 Bonus: they have beer! (Me in Levi's vintage distressed shorts and hat from American Vintage, Fullerton)
After finding the desk, I knew it would be a good day. As I browsed beautiful glassware, antique furniture and relics from years past, I was sad I didn't have an entire house to furnish and decorate (and endless money!).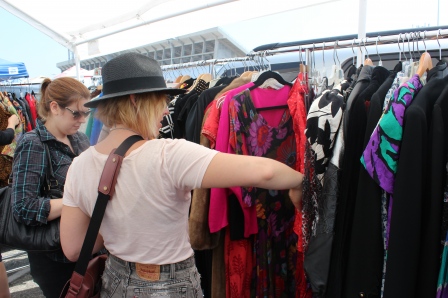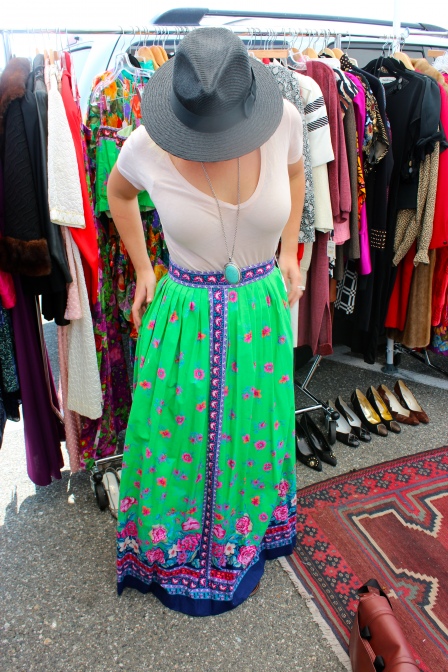 Vintage skirt and top set, $15
As soon as I got within sight of this amazing vintage stall, I was inside. I immediately picked up a gray leather purse to take home ($20 bartered to $15), and then browsed through the rolling racks filled with a mashup of clothing from a variety of eras. The above skirt popped out at me for obvious reasons- it's bright and fun. It also came with a matching top, and I knew that for $15, this set had major potential.
"Girls" coffee table book (Assouline), $10
San Francisco decorative plate, $5
Set of 6 pillows, $60 bartered to $40 and a hug
The remaining items I picked up were all exciting finds. I love coffee table books, especially from Assouline, so I was really excited to find this one entitled "Girls," not to mention the HBO show is a current obsession of mine. This decorative plate is a bit kitschy and cheesy, but San Fran holds a dear place in my heart and a big place in my future, so I had to pick it up.
These Lifesaver-like pillows were the cherry on top of my shopping day. I loved the bright, colorful corduroy, and since I'm a sucker for a story, I had to take them home after the vendor told me they were the prized bed toppings of an old lady for 40 years before her daughter said they had to go. I love that they had a long life before me, and are about to join me on a new chapter of my own.
The Long Beach Antique Market is the best way to spend a Sunday morning. Chances are you'll walk out with less money than you came with, but you'll be much richer with items full of character.
Connect with Shayna on her second hand challenge blog and on Twitter: @2ndHandChallnge and Facebook: facebook.com/SecondHandChallenge