Featured Seller: The Furniture Queen - Robin Dekoning
On the 3rd Sunday of every month Robin brings her unique ideas and style to the Long Beach Flea Market. With a piece of furniture or art work in mind her inspiration begins to flow envisioning the many possilblities which she can create. She is passionate about design and enjoys all the positive feeback from the shoppers.
Robin thinks there's nothing like spending a Sunday morning wandering the aisles of the Long Beach Flea Market and letting your imagination go. Thinking about where these treasures came from and how they can be used in your own home is part of the thrill. Robin takes her time to find the perfect items to give her booth that exclectic and exciting feel.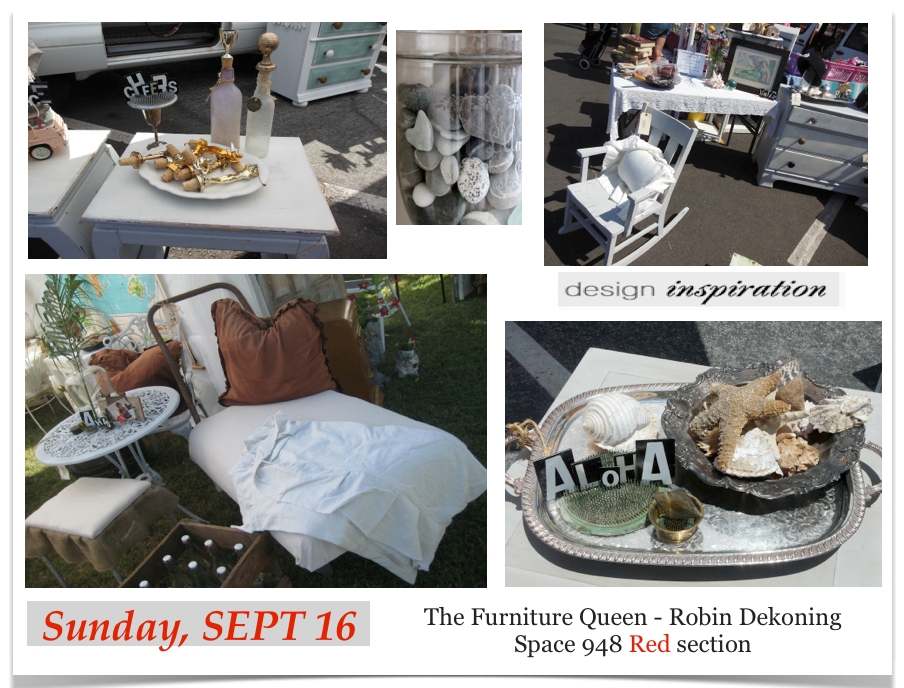 Robin's design tips:-
Decorating a room in all white? Remember to ALWAYS use different shades of white. It makes it more comfortable and cozy to look at. If you use all the same white, it looks too sterile.

Elements from nature, whether from the forest or the sea, can be incorporated into different décor through a few subtle accessories. Using drift wood found at a flea market or jar of heart shaped rocks collected with her kids, Robin brings nature into her living space.

Always be on the hunt!
Whether you are looking for something to be the centerpiece of a room, or are a dedicated DIYer seeking inspirational ideas, check out our featured seller of the month "The Furniture Queen - Robin Dekoning" at the Long Beach Antique Market, Sunday September 16 in the Red section, space 948. You can also connect with Robin and see more of her design ideas on her blog http://thefurniturequeen.blogspot.com/